Every pastry here at Tupelo's is made from scratch with organic and locally sourced ingredients. Each day, we bake a selection of items from the long list below. If you'd like to be sure to pick up your favorite, please call ahead and we'll be happy to set it aside for you. You can also follow us on Facebook and Instagram to see our daily offerings. For special orders, we recommend calling a week ahead of time, depending upon the item.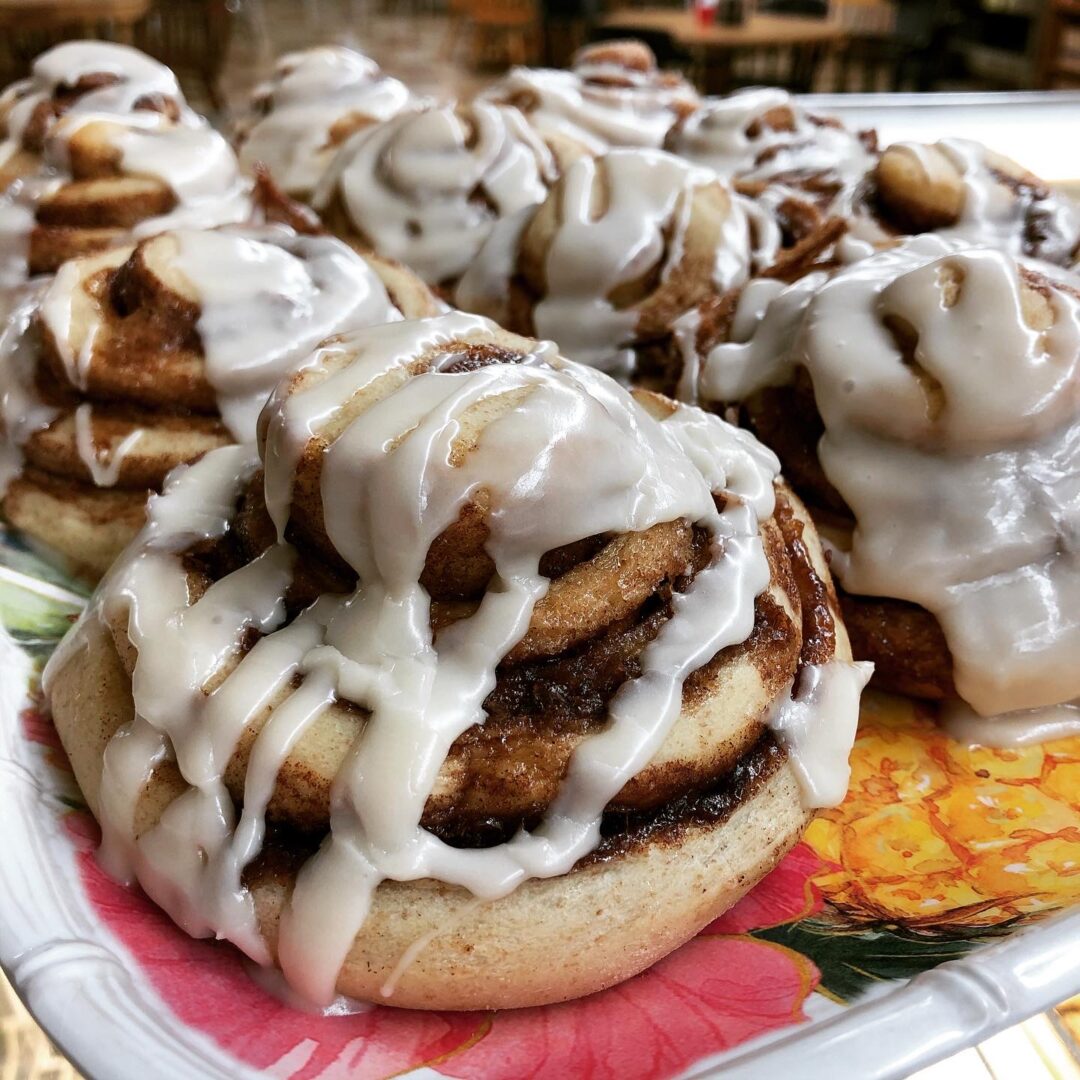 Fresh baked everyday, with veggie or meat options.  Made with our hand-rolled crust, local eggs and organic dairy.  We recommend calling ahead to save your slice, because we often sell out!
Individual pastries with savory fillings such as bacon, ham, cheeses, and roasted veggies, all wrapped up in our honey wheat bread.  Served every Friday.
Plain, everything, poppy and sesame, boiled and baked the right way.  Served on Wednesdays.
Made with our decadent brioche dough and a variety of fresh fruit compotes and glazes.  Served on Saturdays.
Fruit Filled Breakfast Bars
Made with a shortbread crust, fresh fruit compote, and streusel topping.  Served on Tuesdays and Saturdays.
Flaky and tender, served every Thursday.  Have one on it's own with butter and jam, or as a breakfast biscuit sandwich, with a variety of meat and cheese fillings.
Beware, these are highly addictive!  Made with a cookie crust, real caramel topping and locally grown pecans.  Served every day.
We serve up a selection everyday, from the following list:  Oatmeal Everythings, Chocolate Chips, Snickerdoodles, Peanut Butter, and Double Chocolate Pecan.  We also have various seasonal cookies that we make different times of the year.
Key Lime-Raspberry Bars, Lemon Bars, Peanut Butter Bars, served from time to time, or by special order.
Every day, we have a selection of either cake slices or cupcakes in our dessert case.  For a full description, please see our "Cakes" page!
Crispy on the outside, light and fluffy on the inside!  Made with a variety of fruit flavors, every day of the week!
Made with cheeses, herbs and sometimes bacon or ham.  Served up on Tuesdays and Saturdays.
Made with plenty of cinnamon, and topped with a vanilla glaze.  Served every Tuesday.  Sticky buns can be made to order!
We serve a variety of quick breads by the slice every day, from the following flavors:  banana, zucchini, cinny pecan roll, pumpkin, mixed berry, apple spice, pound cakes and more.  Many varieties also come in gluten free!
Made with local blueberries in our homemade crust.  Served on Wednesdays.
Our muffins make an appearance here and there, and by special order.  Chose from cinny donut muffins, various fruit flavors, or carrot spice.  Can be made Gluten Free as well!
Triple Chocolate Brownies
Super rich and chocolatey, made with butter, cocoa, dark chocolate, and topped with ganache.  Served every day.
Including our popular gluten free fruit and nut bars, or apple oat bars.  We usually have one variety available every day.
We also like to serve up one variety of pie every day.  Our flavors include: Key Lime, Coconut Cream, Chocolate Cream, Peanut Butter, and Raspberry Cream Cheese.
Though we don't serve espressos and lattes, we love a good cup of coffee here at Tupelo's! We serve organic SF Bay Coffee, cause they are a cool company, and just so dang good!