A Team Committed to Providing Freshly Baked Goods
Tupelo's was established in 2007, by two Moms (Kim Davis and Claire Olson) with a passion for good, wholesome food made from scratch. We met at the local library's story time with our young kids, and within 6 months were writing a business plan for Tupelo's. Everyone thought we were crazy, and I suppose we were , but our partnership flourished and so did our little business! Through the help of many local folks and farmers, we were on our way to opening up a dream business in our wonderful little town of Monticello, and we have grown into a comforting place of community and good food. It's been a long, and winding road, and my friend and business partner has moved on, but the Tupelo's journey continues. There are too many stories to share in this little space, about the host of characters we met along the way, the struggles of figuring out how to make our business work, and the wonderful rewards of seeing your smiling faces back again and again. We're all friends here, and we're looking forward to feeding your bellies and souls!
- Kim Davis, Owner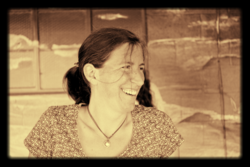 It takes a tough individual to persevere in the food service industry, and Tupelo's has an enormously talented staff of individuals who work their hardest everyday to bring you good, wholesome food and make you feel at home every time you come in!