Serving You Delicious Meals and Baked Goods
Here at Tupelo's, we pride ourselves on cooking and baking from scratch with the best ingredients possible. We are open for breakfast and lunch five days a week with a selection of freshly baked pastries and quiche, and a full lunch menu with sandwiches and salads. The bread for all of our sandwiches is baked fresh daily, and the soups and salads often feature locally grown meats and produce.
Our deli meats and cheeses come from our local Boar's Head purveyor.
Interested in finding out what the daily specials are? You can follow us on Facebook and Instagram, or subscribe to our weekly newsletter.
Call ahead to place your lunch order, and we'll have it ready for you to pick up!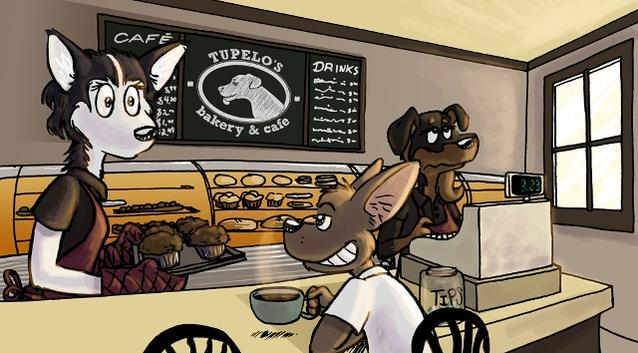 Served Tuesday-Saturday, 11:00 am - 1:45 pm.
All salads served with our homemade bread. GF bread add $.50. Add sliced turkey or ham to your salad: $2.00 small portion (2 oz) or $4.00 large portion (4 oz). Add a scoop of tuna or chicken salad for $3.00.  Other additions: $.50 small / $1.00 large.
Our classic and famous salad with organic mixed greens, toasted pecans, dried cranberries, feta cheese crumbles, tossed in our house balsamic dressing. (Alternate dressing option is our buttermilk ranch)
Organic mixed greens, chopped tomatoes, onions, banana peppers, Italian herbs, mozzarella cheese, ham, pepperoni, prosciutto, and our house made balsamic vinaigrette
Organic mixed greens topped with our famous house tuna salad, tomatoes, cucumbers and a side of our balsamic vinaigrette or buttermilk ranch. (Two scoops of tuna for a large and one for a small)
The Hippie Chick Salad Plate
Mixed baby greens topped with our chicken salad, made with Boar's Head Everroast Chicken, fresh apples, onions, celery, dried cranberries, toasted pecans, and a dab of mayo. Served with a side of balsamic vinaigrette. (Two scoops of chicken salad for a large and one for a small.)
We serve our homemade quiche for breakfast & lunch every day. Our crust is rolled by hand & the filling made with local eggs and organic dairy. Check our chalkboard for today's flavors. $5.50/slice
$5.50/slice
Check the blackboard for our daily special! Each day we make a salad, sandwich or soup highlighting the local goods from nearby small farms. We love to support our farmers! Sign up for our weekly email, or follow us on Facebook and Instagram to see our daily specials!
Always made on our homemade light wheat bread, fresh from the oven, every day! Also available: wheat wrap, or gluten-free bread. Gluten-free bread substitution: add $1.50 to any sized sandwich. We use all Boar's Head meats & cheeses, fresh veggies (local and organic as much as possible), and our homemade sauces. Add extra meat (including bacon) to any whole sandwich for $4.00, or to any half for $2.00. Add any other ingredients (cheese, veggies, nuts, etc..) for an additional $1 whole or .50 half sandwich. Sandwich meal deal: Add $3.00 onto the price of any sandwich and get a bag of chips, & tea or soda.
Honey-Maple Turkey, baby Swiss cheese, fresh tomatoes, sweet onions, lettuce, mayo and Dijon
Our own tuna salad made with local, free-range eggs, diced onions and celery, sweet pickle relish and touch of dill and mayo, layered up with tomatoes, lettuce and cheddar cheese slices
The Hippie Chick Sandwich
Our homemade chicken salad, made with Boar's Head Everroast chicken, fresh apples, sweet onions, celery, cranberries, toasted pecans, and mayo. Served on our bread with fresh lettuces and mayo.
Crispy, fresh & filling! Sliced tomatoes, cucumbers, onions, banana peppers, lettuces, spinach and tangy Dijon mustard on our homemade light wheat bread
Crispy Boar's Head bacon, lots of fresh lettuces, thick slices of juicy tomatoes and a dab of mayo (of course!)
Prosciutto, Ham, Pepperoni & Mozzarella layered up with lettuce, tomatoes, onions, banana peppers, herbs, mayo, deli mustard & vinaigrette
Boar's Head Turkey, Vermont cheddar cheese, crispy bacon, fresh apple slices tossed in a little lemon and cinnamon, a dab of our homemade apple butter and mayo. Pressed hot to perfection!
We take a blend of Boar's Head cheeses, layer them up with fresh tomato, spinach and our homemade pesto mayo, and then grill it to perfection on our panini press.
SMALL SANDWICHES FOR LITTLE PEOPLE
Organic peanut butter and jelly
Honey-maple turkey, sharp cheddar, mayo & Dijon mustard
Monticello's Finest Tap Water - free
Root Beer or Vanilla Cream
2.00
Iced Tea Sweet / Un-Sweet
1.75
1.75
Florida Georgia Citrus Satsuma-Orange Juice
3.75
3.75